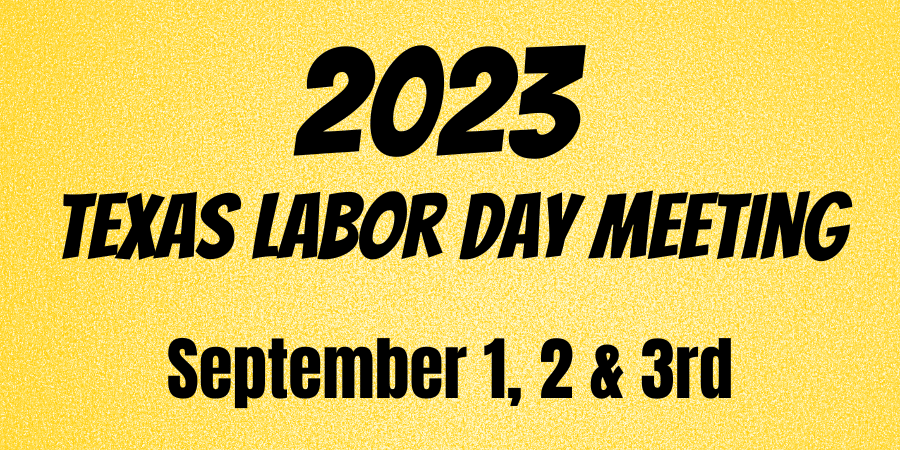 Time Until The 2023 Meeting

Evangelist Kevin Presley will continue to help us conduct the 2023 Texas Labor Day Meeting. Kevin is based in Dothan, Alabama, but he has strong roots in this part of the country. He currently spends much of his time producing online and TV sermons at Let The Bible Speak TV.
Friday, September 1st at 7:30 PM

Saturday, September 2nd at 6 PM

Sunday, September 3rd at 6 PM
All services are conducted at The Grapevine Convention Center in Grapevine, Texas. We hope you'll make plans to attend.
---
On Lord's Day morning – Sunday, September 3rd – area congregations will conduct worship services.
There are no services on Lord's Day morning at The Grapevine Convention Center. 
Fossil Creek – 10AM –
Grapevine, Texas – 10AM
Green Oaks in Arlington, Texas – 10:00AM
Duncanville, Texas – 10:30AM
Weatherford, Texas – 10:30AM
Cleburne, Texas – 10:30AM
Please check your church directory for a complete listing of all the area congregations. We urge you to check with the local brethren of these congregations regarding worship times, too. We have relied on the current church directory – Where The Saints Assemble – for our information.
………………………………………………………………………………………………………………………………………………….
The Activities

These are privately organized by individuals and are not a work of the congregation. For your convenience, we've included this information for all those planning to attend the meeting. They provide Christian associations and an opportunity for visiting, recreating, and singing.
Actitives This Year Will Be Similar To Previous Years
Flyers will be available at the meeting.
* The organizers request that all Christians dress modestly and appropriately.